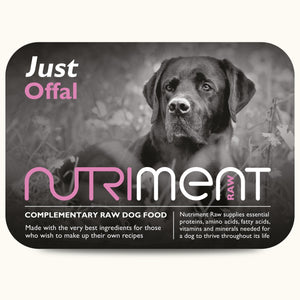 Nutriment Just Offal 500g
£2.44

£2.44
Tax included.
Shipping
calculated at checkout.
---
---
Our Just Offal raw dog food is made from high-quality green beef tripe, beef heart, beef kidney and beef liver, for use in at-home recipes (homemade raw diets should consist of 5% liver and 5% other secreting organ). At Nutriment, we understand that some dog owners are incredibly passionate about their dog's diet, and so our Just Offal product enables dog owners to create recipes and meals tailored to their dog's specific dietary needs and preferences. Free from fillers, additives and preservatives, our Just Offal is packed full of easily digestible nutrients essential to the optimal health of dogs. The offal we use in our raw dog food solutions is carefully selected to ensure it is high-quality and ethically reared.
A complementary food, to be used as a mixer or as the base of DIY raw recipes. Suitable for all breeds. Our Just Offal is available in 500g trays. Contains 100% meat and offal.
Ingredients:
British Green Beef Tripe, Beef Heart, Beef Liver and Beef Kidney.
'Offal' is a broad term for the innards and organs of an animal. Nutriment's Just Offal raw food product contains 100% high-quality, raw green beef tripe, beef heart, beef kidney and beef liver for a nutrient dense, easily digestible raw meal component. For dogs, offal is great tasting and well textured, meaning that it contributes greatly to their overall enjoyment of food, and it can be added to various recipes to boost the nutritional profile.
Beef liver, heart and kidney are all fantastic sources of riboflavin, niacin, thiamin, vitamin B6, vitamin B12, copper, selenium and iron, as well as being great sources of protein. These are all essential nutrients which contribute to the overall health of dogs, including, heart, skin, bone, blood, digestive, oral and immune system health.
Innovative Feeding Solutions
Nutriment's Just range is part of our innovative approach to raw feeding. Maintaining our uncompromising approach to canine health and happiness, this premium raw dog food solution empowers dog owners to creatively formulate their own dog food recipes in the comfort of their own home. Combined with other proteins, biologically appropriate vegetables and nutritious superfoods, our Just range contributes to a wholesome raw diet which promotes overall health for dogs.
---
We Also Recommend