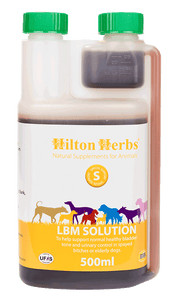 Hilton Herbs LBM Solution
£19.23

£19.23
Tax included.
Shipping
calculated at checkout.
---
---
LBM SOLUTION
For incontinence
Leaky Bitch Mix:
To support bladder control in older dogs & spayed bitches
LBM Solution is formulated to maintain and support:
bitches or elderly dogs with incontinence problems
healthy bladder control and tone
LBM Solution is a liquid supplement containing pure tinctures of herbs such as vitex agnus castus and horsetail and was formulated for Hilary Self's own Doberman bitch's needs.  Some breeds are more prone to this problem and please note, this supplement does not contain any hormones.
Ingredients
1:3 Tinctures of:
Hydrangea
Horsetail
Astragalus
Vitex agnus castus
Cramp bark
Black Cohosh
How do I use it?
1ml/5kg bodyweight
Add to the feed on a daily basis, where possible splitting the required amount between two feeds
Can be orally syringed if necessary
Full instructions will be found on the packaging
Introduce slowly if your dog has not had supplements before
Please allow up to a month for full benefits to be seen
In time, you may find the amount fed can be lowered
Animals are individuals, often a lower maintenance amount will be sufficient for long-term use
If you have any concerns about your animal's health please contact your vet immediately.  If you have any queries about using this product, or if your animal is pregnant, please contact our Helpline 0800 052 3672 (Freephone) or email helpline@hiltonherbs.com
Did you know?
You can feed foods rich in phyto-estrogens to help your spayed bitch.  Phyto-estrogens mimic the action of the hormone 'oestrogen' in the body and trick it into thinking there are more circulating oestrogens in the system. Some foods are particularly rich in phyto-estrogens and can be cooked and given such as Soya, Oats, Oatmeal, Linseed and Fenugreek.  

These foods are also great for people as well, particularly post menopausal women whose natural circulating oestrogens decline after the menopause.
---
We Also Recommend