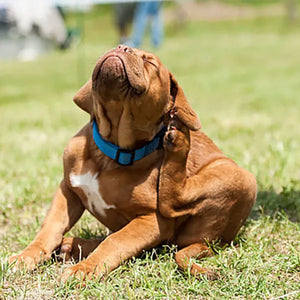 Feclab Canine Demodectic and Sarcoptic Mange Test Kit
£44.00

£44.00
Tax included.
Shipping
calculated at checkout.
---
---
Canine Demodectic and Sarcoptic Mange Test Kit
Demodectic Mange and Sarcoptic Mange are parasitic skin conditions caused by mites.
Demodectic Mange
Demodex Canis can live on most adult dogs and do not tend to cause any irritation. They live in or near to the hair follicles.  Spending it's life on the host (dog), pregnant females lay eggs which hatch and mature from larvae and then develop until they reach adult stages. The mite lifecycle is understood to be around 17 – 35 days.
As mentioned, most dogs' can cope with this mite and are not affected by its presence however this is not always the case. Those at higher risk are:
Older dogs' with a weakened immune system
Younger dogs/ puppies, usually under 18 months of age.
Dogs or puppies suffering with additional conditions such as skin conditions or illness.
Symptoms:
Dry, itchy skin (unexplained) & wrinkly skin
Hair Loss (can be a small area or larger areas)
Red, flaky skin or a rash (can also be dark and hardened skin)
Greasy coats
Spots (can be filled with pus)
Sarcoptic Mange (Sacoptes Scabiei)
Sarcoptic mange is a skin condition that is caused by the Sacoptes Mite. These mites burrow in to the skin causing intense itching and reddening of the skin, this can be quite painful for your dog. Left untreated, this can lead to skin infections and can make dogs quite poorly.
Sarcoptic mange can be very infections and often contracted by interaction with infected dogs or foxes.
Symptoms:
Skin irritation, this may start on ears and legs (this can be intense itching)
Sore, red skin. This may also be flaky
Hair loss
Lethargy (lacking in energy)
What we do with your sample?
Faecal sample: Centufugation faecal flotation to screen for the presence of eggs or larvae.
Impression Tape: Examined under the microscope to identify the presence of eggs or mites.
What will this test tell me?
Both tests are a non-invasive tool that screen for the presence of both the Sarcoptes Scabiei mite and Demodex Canis. This can then be used as a process of elimination where your dog is experiencing symptoms. If your dog is showing severe symptoms then you should contact your vet for advice and treatment options.
If mites are not present in your samples but irritation still continues, you should contact your vet who may perform a skin scrape. This is a process where thin layers of skin are scraped from your dog (usually) with a scalpel and then looked at under the microscope. In some cases, where this also does not give a definitive diagnosis but symptoms continue, therapeutic treatment may be suggested or alternative investigations for another cause may be carried out.
This test can offer an insight to whether or not mites may be present.
Tip > Pet Insurance: You may be able to make a claim on your pet insurance for this test and ongoing treatment, should a positive result be identified. In this case, speaking to your veterinary practice and insurance company would be advisable.
What is included in my Kit?
Instructions for use.
Faecal sample kit (a collection of small samples taken over 2 days).
Tape impression Kit (x 3) to be taken of the skin.
All Feclab kits contain instructions and free 1st class return postage.
Results will be emailed to you within 2 – 3 days of us receiving your sample.
Instructions for use
Faecal Sample:
1. Place your sample/s in the poo bags provided.
2. Place this in to the smaller zip bag and seal.
3. Place the smaller zip bag (containing the sample) into the large zip bag and seal.
4. Store in a cool place outside until ready to post.
Impression Tape:
Your kit contains 4 Tape Impressions.
1. Peel back the paper side, trying not to touch the sticky side of the tape.
2. On the area of concern, clear as much hair as possible and place the tape on to the area. Rub this with your finger so that it is pressed against the skin.
3. With your finger, rub over the top of the tape to ensure all of the tape touches the area of concern. Do this for each impression.
4. Once done, fold the impression tape in half, so that it sticks to itself.
5. Place your impression samples in to the small zip bag and seal.
Finally: Place your Impression samples, your Faecal samples and this leaflet into the pre-paid returns envelope and pop it in a standard letter box. (Please do not put your leaflet in the larger zip bags with your samples).
** You will receive your results within 2 – 3 days via email. Please keep an eye on your spam folder too. If you have not received your results within this time, please do contact us.
---
We Also Recommend