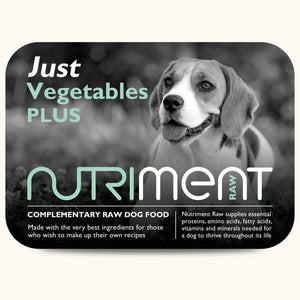 Nutriment Just Vegetables Plus 500g
£4.29

£4.29
Tax included.
Shipping
calculated at checkout.
---
---
Nutriment's in-house nutritionists are advocates of the inclusion of biologically appropriate, low-carbohydrate, raw vegetables and nutrient dense superfoods in our high-quality raw dog foods. Vegetables and superfoods are rich in essential nutrients which are fundamental to the overall health of a dog. Our carefully selected ingredients are free from any artificial additives or preservatives, to ensure that they are easily digestible and maintain their nutritional profile. At Nutriment, we understand that some dog owners are incredibly passionate about their dog's diet, and so our Just Veg Plus product enables dog owners to create recipes and meals tailored to their dog's specific dietary needs and preferences.
A complementary food, to be used as a mixer or as the base of DIY raw recipes. Suitable for all breeds. Our Just Veg Plus is available in 500g trays. Contains 100% fresh vegetables, fruits, and natural superfoods.
Ingredients:
Fresh Carrots, Fresh Butternut Squash, Fresh Broccoli, Fresh Green Curly Kale, Scottish Cold Water Salmon Oil, Organic Virgin Coconut Oil, Raw Sea Kelp Powder (Laminaria japonica), Bilberry Powder (Vaccinium Myrtillus),  Spirulina Powder (Spirulina platensis), Whole Milled Sesame Seeds, Wheat Germ Oil (natural vitamin E)
Just Veg Plus is full of nutritious vegetables and superfoods including fresh carrots, broccoli, butternut squash and curly kale, as well as spirulina, raw sea kelp powder, coconut oil, salmon oil, bilberry powder and wheat germ oil (vitamin E). These premium ingredients are specifically chosen by our canine nutritionists for their impressive nutritional profile. These ingredients provide an abundance of essential nutrition including vitamins A, C and K, dietary fibre, potassium, thiamin, niacin, magnesium, iron, calcium, folate and natural salts.
Spirulina and curly kale also contain protein which is an incredibly important part of nutrition for dogs. Bilberry powder is rich in antioxidants and salmon oil contains Omega-3 fatty acids, both are which contribute to the overall health of dogs.
Innovative Feeding Solutions
Nutriment's Just range is part of our innovative approach to raw feeding. Maintaining our uncompromising approach to canine health and happiness, this premium raw dog food solution empowers dog owners to creatively formulate their own dog food recipes in the comfort of their own home. Combined with other proteins, biologically appropriate vegetables and nutritious superfoods, our Just range contributes to a wholesome raw diet which promotes overall health for dogs.
---
We Also Recommend